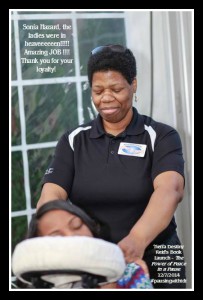 On-Site Chair Massage
$75/hour, per therapist.
These sessions are designed to help you get energized to conquer your to-do list, or de-stress in the middle of a busy day. Chair Massage sessions can be adjusted to your needs, as short or as long as you need them to be. A great idea to share the hour with your co-workers! Clients will have stretches suggested to help the benefits of the massage last long after the session is over.
If more than one therapist is needed, please specify when making your appointment.
---
Therapeutic Table Massage Sessions
On-site Therapeutic Table Massage Sessions are handled on a strictly by referral only basis.
Therapeutic Table Massage sessions allow the client to be able to address the aches and pains that one experiences during your daily activities, or to just rest, relax and rejuvenate. Swedish massage sessions offer a relaxing environment to de-stress, relax, improve blood flow, and relieve muscle tension with light to moderate pressure. A Study done in September 2010, concluded that after a Swedish massage session there was an increase in white blood cells and interleukin, improving your immune system, reduces the stress hormone, cortisol.
Sports Massage and Deep Tissue Massage can require more 'audience participation'. These sessions alleviate pain and tension associated with sore muscles, maintain and increase your flexibility, stability and to enjoy your weekly activities. Breaking up scar tissue, reducing trigger points and performing stretches during the session can increase your flexibility in your muscles, increases your range of motion and longevity in your favorite events. Sports massage is beneficial for everyone from the weekend warrior to Olympic & Pro Athletes.
Clients should be in good general health, and over the age of eighteen. Clients under the age of eighteen must have parental consent. Clients that use medications to monitor High Blood Pressure, Diabetes, etc., must disclose medications used, and if medications have been taken. Pregnant women in the first trimester are encouraged to wait until later on in the pregnancy to prevent harm to yourself or the baby for your massage. Clients that have had any alcoholic beverages or illicit drugs prior to the session will not have the session transpire, and will be charged the full fee of the session.
All packages are for a
single
Therapist. Additional therapists are available, as needed, for all packages below. Please make your appointments
online
.
60 Minute Swedish Relaxation Massage – $90.00
60 Minute Deep Tissue Massage – $95.00
90 Minute Swedish Relaxation Massage – $135.00
90 Minute Deep Tissue Massage – $140.00
ADD-ON: 15 minute Scalp Massage – $20.00
ADD-ON: 15 minute Foot Massage – $20.00
Two hour Couples Instructional Massage Session – $175.00