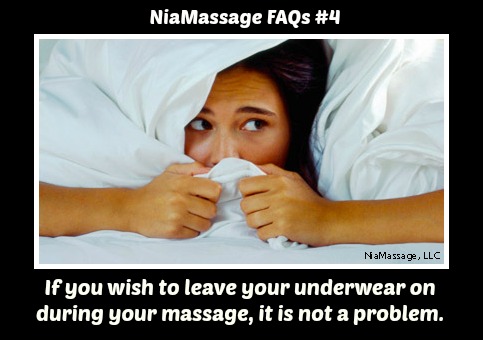 Believe it or not, I get this question more often than not. Working on your back, it wouldn't be a good idea to have your bra on, since it could end up with whatever massage medium (gel, oil or lotion) that the therapist uses during a standard massage. In a Chair Massage setting, it will be less likely that oils or lotions would be used. You will be covered up, and the only part of the body that will be exposed is the part that I'm working on. If I'm working near your underwear, the sheet would be tucked into the underwear, to protect them, as well as providing a border to show you where the work will be done. Boxers makes the tucking a little tricky, but not impossible. It helps you know where I'm going to be working.
If I have to work on the pecs, or inside leg, a hand – yours or mine – would be placed in the area, providing a modesty border to work with. Pec work is primarily done when your shoulders are tight, and need to be loosened, to increase range of motion, and increase lung capacity. If balance is kept in mind, if the pecs are contracted, the shoulders must be stretched out.
In either case, if you are not feeling comfortable during your session, please speak up, and let your therapist know.