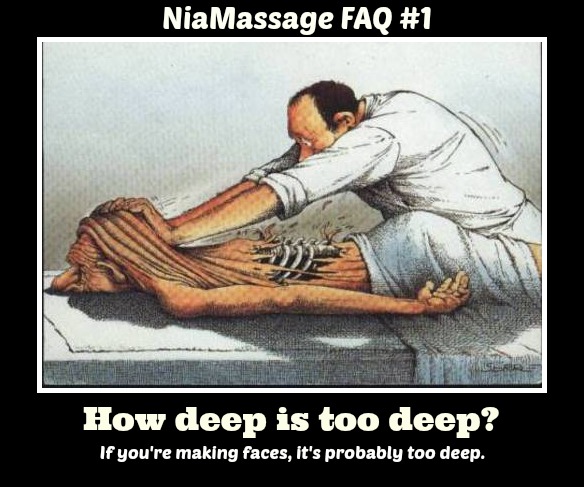 Many times, when I talk to potential clients and they ask what types of massage that I do, one of the modalities I mention is 'Deep Tissue Massage'. I can already see a wince of pain crawl across their faces. They are visualizing steamrollers running over little marshmallow Peeps, wondering if that is how they'll feel after getting the same massage. I've even read articles that people have written, alluding the same feeling after getting a deep tissue massage.
What I try to explain to them is that everyone's pressure tolerance is different. Some clients may LOVE feeling like a lump of clay after getting a deep tissue massage, and that's absolutely perfect, for them. Bruises don't look cute on anyone. I encourage everyone, that if you are not comfortable with the pressure, definitely speak up – This is YOUR session. There are different ways to address your goals for your session.
Now, in some cases, it is going to be painful – gluteal work is literally a pain in the butt, and axillary massage is uncomfortable because, well, how often have you gotten a massage where the therapist worked in your armpit? In these cases, I'm going to let you know so that you are prepared, and that we can work together. This way,you still get your best massage session. There are coping mechanisms as well as techniques that I can show you, so that you are able to still enjoy the massage, and get what you need done.
So next time you're getting a Deep Tissue Massage, and you're not getting the pressure you need, let the therapist know! They'll do their best to accommodate as well as they can.