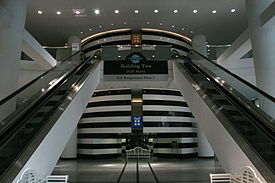 As a massage therapist that has worked shows at AmericasMart Atlanta, newly rebranded as The Atlanta Market as a massage therapist for over 11 years, there's a lot you learn while you are there. Here are a few things that will help you have the best Market visit ever –
Get insoles/proper walking shoes. Your shoes may go with

your outfit, but they may not be suitable for walking thousands of steps a day. A shoe with good arch support goes a LONG way. Take care of your feet, so they won't take you hostage later.

Get the

AmericasMart app

, and have it updated. Carrying the app on your phone weighs less than carrying the book.  You won't have to find the maps at the end of the hall, you'll have the most updated information, and you will have a good idea of where the showrooms are that you're looking for.
Charge your extra backup batteries for your phone/laptop. Sockets are at a premium at lunchtime. Don't be that person trying to maintain an important call with a 5% battery.
Before you even leave the room, put 2 bottles of water in the room's fridge. Use a cold one to roll under your sore feet. The other one is for drinking since you will probably be dehydrated by the time you get back.
HYDRATE! Bring a water bottle with you. With all the walking that you will be doing, getting dehydrated is a definite possibility.
Have a reasonable plan to shop. You are NOT getting to every showroom in the Market in one day. Don't even think about it. The campus is too big and overwhelming. Find where the bridges that connect the buildings are. Take the campus in sections, so that you see everything you want in the time you have. Use the app to plan your trip, so you don't miss anything.
Take Breaks/ EAT! There are plenty of places to eat within AmericasMart, as well as the surrounding area. There's a mall across the street that has a pretty big food court and a CVS next door. Get an idea as to when you are ready to eat, so you know what foods are available where you are.  Remember – the lines at Chik-fil-a are ALWAYS LONG, and will ALWAYS be closed on Sunday. Pack small snacks with protein when you are hungry and in the middle of a shopping binge.
You are going to be buying a lot of products or carrying a lot of fliers and files. The load is going to get heavier, as the show progresses. Get a bag with wheels.  Make yours distinctive; lots of people will have the same idea.  Take out the things you won't need the night before.  Putting the work on the floor frees up your body to carry itself.
Last but not least, GET A MASSAGE! The Mart has a showroom that has massage therapists that will get those knots out of your shoulders and back as well as treat your feet. The earlier in the day you go, the less likely you'll have to wait. I promise you, the massages are worth it; your feet and body will be rejuvenated!
EXTRA TIP: Know what end of the train you need to be on to get off at the correct side of the station. If you exit on the South end of Peachtree station, you will be at the Library. The North end is where you will want to be!
Most of all, have fun! Can't wait to see what you get while you're here.